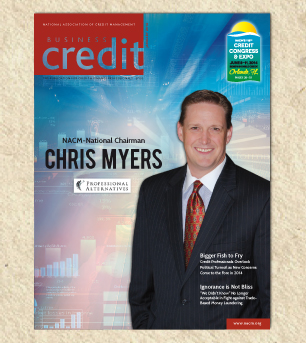 Q: At Professional Alternatives, what are you particularly proud of?
CM: During the last 15 years, we've referred more new members to NACM than anyone else, at least at NACM Gulf States. I am extremely proud of that. The ability to support and to help grow the association is something we take a lot of pride in.
Q: Now, how did you start your credit career?
CM: I started working in credit, right out of high school. I got a job at a credit bureau and worked in the industry all through college and for the first three years afterward. It was an interesting industry. When you start in an industry right out of high school and enjoy it, then see the opportunity for it to really become a lifelong career, it's exciting. And here I am. When I was 25, I had an opportunity to start an organization that would focus on supporting the needs of the credit professional. I started the company in August 1998, and we just celebrated our 15-year anniversary.
Q: Were you worried about taking the leap with a start-up company?
CM: There's always a level of apprehension, but that was overwhelmed by the level of excitement. There was no question there was a need. I had experienced it myself as a credit professional and had heard from many others with the same need. I had an opportunity to really do something for the credit industry. I'd say it was helpful that I came to [credit] at a younger age. You don't know what you don't know at that point. You don't fully understand all the risks. The opportunity is all you can see.
Q: What has been the most important takeaway you've gotten from your NACM involvement?
CM: The years of experience within the NACM membership are really unmatched, unparalleled. There's an ability to gain insight and wisdom, to avoid mistakes and be able to understand things there's no way I could've otherwise. I could go through a laundry list of things—collection services, education, etc.—but, for me, it's the members and the unbelievable wealth of experience they bring that has benefitted me the most.
Q: How important was being mentored in your career and who had a particularly profound impact on your professional development?
CM: I think anyone who has had any measure of professional success should recognize that someone helped them along the way by taking the time and investing in them. There have been several people that helped me in a number of ways. A couple that stand out for me would be Ronnie Archer, CCE and Kathi Quill, CAE, CBA [both from NACM Gulf States]. Their desire to help the credit industry and credit professional is unmatched, in my opinion. They took a great deal of time making sure I understood the business and the association. I certainly would not be anywhere close to where I am today without their support.
Q: Why do you want to serve as the NACM-National chairman?
CM: The reality is it has never been a goal of mine to attain any leadership position at the local or national level. My goal and passion is to help NACM grow and succeed and do whatever I can do to contribute to that success. This was recognized by others and it encouraged me to start down that path. If my peers think I can help contribute in a leadership capacity, I'm more than happy to do it. I'm very humbled by their belief in me and appreciative of the opportunity. I will do whatever I can to help in this capacity.
CHRIS MYERS
Chairman, 2014
Chris Myers, president/CEO of Houston-based Professional Alternatives LLC, is the 2014 NACM-National chairman, taking over after a year of exemplary service by Toni Drake, CCE. A leading expert on credit labor market issues and a frequent speaker at credit functions across the country, Myers has served on the Boards of Directors for NACM-National and his affiliate, NACM Gulf States, in addition to garnering professional distinctions such as a mention in Houston Business Journal's "40 under 40" in 2012. Myers earned a BA from Texas A&M University and an MBA from Houston Baptist University. He eventually founded Professional Alternatives, recognized twice in the last decade as one of the fastest growing companies in Houston. NACM spoke with Myers on the cusp of his service as chairman and found an eager, passionate professional ready to serve those in the credit industry.
Q: What do you think is the biggest issue or problem facing credit professionals in 2014?
CM: Credit professionals have a difficult job, and performing that job is still the most difficult thing they'll face. Depending on geographic region or industry, aspects of the job can change, but it's still a difficult economic climate. Some areas are doing extremely well, while others are struggling. It's a challenge to ensure the business is taking reasonable risks and maximizing the business opportunities.
Q: How can NACM help mitigate those problems?
CM: NACM exists to support the professional in that extra capacity. Whether it be credit reports, education, secure transactions, credit groups, collections, expanding internationally, that is why NACM is here.
Q: Are credit professionals evolving sufficiently to meet new challenges, particularly the need to elevate the role of credit within their companies?
CM: Change and adaptation are necessities in today's business, whether it is the changing economic climate, the changing availability of resources or changing the business' strategies. Evolution, adjustment and adaptation are just core competencies required of every professional today, and certainly the credit professional as well.
I think credit professionals, as a whole, have done a very good job of adapting to the changes in business. The reality is that credit plays a critical role in every successful organization. The challenge is making sure the perception with upper management matches that reality. We've made significant strides in enhancing the visibility of credit. It is a never-ending initiative. It will always be ongoing. NACM has certainly done a good job of expanding the perception of credit in the marketplace through things like the Credit Managers' Index (CMI) and the certification program, but nothing will ever replace a credit manager who walks into a senior executive's office to share a success story, showing how they positively impacted the business. It isn't enough to just perform well, they need to market that success to make sure the visibility of the credit function continues to expand. Every successful company has a successful credit department. We can do things from NACM-National at a macro level, but at a micro level, nothing is going to replace the credit professional promoting themselves and the credit department to upper management. We should always be doing more and looking for ways to expand that visibility.
Q: How has serving on NACM Boards of Directors and preparing yourself for the national chair position changed your perspective on NACM and/or the credit industry?
CM: NACM is a very successful, diverse and exciting association. It's also pretty complex, with a wide base of constituents and stakeholders. Serving on my affiliate's board and the national board helped me to clarify and understand how the association runs, what helps it succeed and where the challenges and opportunities are for growth and success. I think anybody involved with NACM has a passion for the credit industry and an unrelenting desire to see NACM and the credit profession grow in the best manner possible. The goal is to continue to work together collectively to do whatever we can in order to help accomplish a unified objective, which is the growth and success of the credit professional.
Q: Can you give an example of a collaboration already at work?
CM: I think the National Trade Credit Report is the most prominent example of collaboration. It is something the affiliates spearheaded and something we've been able to create a revenue stream with by creating a product that leverages the 100-plus years of experience and the phenomenal professionals in the industry we have out there. The more we are able to leverage the size, the scope and reach NACM has, the better off we're all going to be.