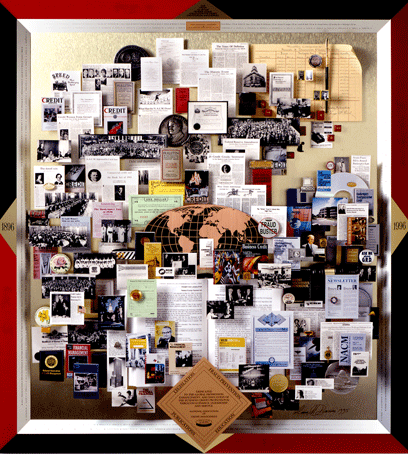 Welcome
The history of NACM is woven like a thread through the history of business credit. Back in 1896, the nation had not fully recovered from the economic crash of 1893, and the need for standardizing credit policy and the free exchange of business information had become clear. While the notion of a business credit organization was forming in the minds of several prominent businessmen, the Olympics were being held—not in Atlanta, Georgia, but in Athens, Greece—for the first time in 1,500 years. In January of that year, the New York Times hailed Professor Wilhelm Roentgen's discovery of X-rays, and in the communications field, Guglielmo Marconi began his first experiments on an invention that would transform daily life for millions in the 20th centurty—the radio. Adolphus Busch introduced his new beer—Michelob—and H.J. Heinz came up with a new advertising slogan—"57 Varieties." At the same time, a confectioner named Leo Hirschfeld, in true innovative style, began putting candy in paper wrappers. He named it Tootsie, after his daughter.
In the West, Buffalo Bill founded the town of Cody, Wyoming, prospector George Carmack started the Klondike Gold Rush when he discovered gold at Bonanza Creek near the Klondike River, and Utah became the 45th state.
The Democratic Convention saw presidential candidate William Jennings Bryant support the "easy money" vales which called for free and unlimited coinage of silver in his famous "Cross of Gold" speech, but Ohio Governor William McKinley won the presidency with his notion of "Sound Money." Amidst much debate on political and financial issues that would have enormous impact on America, a credit manager in Toledo, O.G. McMechen, had a vision; he would issue a call for credit managers across the United States to come together to form a national association. In June of 1896, with the help of the Toledo Chamber of Commerce, 100 credit managers established a national organization that would become the National Association of Credit Men—ultimately, the National Association of Credit Management.
This digital journal serves to document the history of our organization and the many professionals who contributed to its great success. We enjoyed looking at the memorabilia of our past, reading the anecdotes and remembering the faces, and we extend our thanks to all of the many contributors. We hope you enjoy reading about how NACM has shaped the face of business credit over the last century and more.