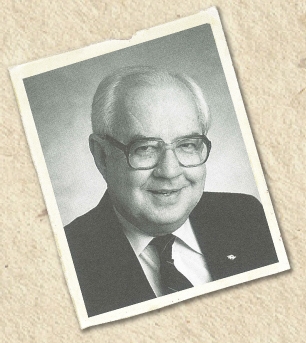 When honored as the 1990 National Credit Executive of the Year representing the Southern region, Mr. Glaus said, "If I were going to leave a legacy to the profession, it would be learning is a never-ending process—nobody lives in a cocoon—and communicating with people, learning together, and aspiring for excellence are the most important things. We never stop learning. You have to stay alert and in-tune to what's going on, not to what happened in the past. You need to find a way to make things happen, work out solutions, and have the opportunity to work with people."
In Glaus's NACM presidential (now chairman) acceptance speech in 1971, he made a commitment that National would represent the interest of all people of the organization—affiliates, member companies and individuals. Marking the 75th Anniversary that year, the Association was moving resolutely forward.
He said that the organization had two choices as it moved ahead: "continue to look back at the past problems" or "go forth and forward."
National did go forward! During the next 25 years, as in nearly the quarter century before, O. D. Glaus was one of the commanding leaders to advance the cause of the credit profession and the Association.
In 1994, the Alice M. H. McGregor Award for Exceptional Achievement was established. This award is not given lightly and was created to be given to an individual with an outstanding record of contributions to the business credit profession, to one who serves as a role model for the profession, to one who is a leader rather than a follower, and to one who sets standards for one's profession and applies his or her professional expertise to the needs of the broader community. In 1996, the NACM Honors and Awards Committee selected O. D. Glaus Jr., CCE to be its first recipient.
Known as the "father of credentialing" to many, Glaus passed away in February 2010. His contribution to the credit profession and to NACM is legendary.
O. D. GLAUS JR.
Chairman, 1971-1972
O. D. Glaus Jr., CCE, NACM Chairman, 1971-1972, was a true Southern gentleman who is held in the highest esteem by his colleagues in the Association and in the business community. His wide range of expertise and proven expert judgment, along with the qualities of thoughtful deliberation and thoroughness, have provided NACM members with dynamic leadership over many years.
A native of Nashville, Mr. Glaus received his bachelor's and master's degrees from Vanderbilt University in Nashville. He was active in fund raising activities, alumni affairs and a trustee for the Phi Kappa Psi Fraternity at Vanderbilt.
Mr. Glaus was always active in the community and business activities. He held many positions at the Belmont United Methodist Church, was a member of the Masonic Lodge including Knights Templar, Shrine and Potentate Guard and was also a member of the Elk's Lodge.
A veteran with four years of service in the European and Pacific Theaters during World War II, he started his business career as a university instructor. He then went to Genesco in Nashville, where he worked as general credit manager for virtually his entire career of 48 years, until retirement.
Glaus received Genesco's highest management award in 1956 and 1978 for "minimizing potential bad debt losses through professional and untiring handling of legal and collections accounts."
In addition to his regular duties at Genesco, Mr. Glaus served as president of its Credit Association (credit union), as chairman of the company's United Giver's Fund Drive, and as a member of its Advisory Board of Directors.
O. D. was a member of NACM for over 46 years! Throughout his time, he was an active member both on the local and national levels and contributed outstanding service to the Association. He held just about every office in NACM and was involved in nearly every major development in the profession in the last 35 years. In 1972, he was a leader within a small group that organized the first NACM Legislative Conference in Washington, D.C.
He was a trustee and advisor for the Credit Research Foundation (CRF) for many years, and chaired its Strategic Planning Committee. He led in establishing the Meyer M. Kahn Scholarship Foundation.
Throughout his career, Glaus was a prime advocate of credit education. Locally, he taught college classes on the principles of credit for 20 years. Nationally he was a guiding force in the establishment of the credit field's professional accreditation program. Founded in 1972, accreditation was originally awarded under the title of Accredited Business Credit Executive. The title is now Certified Credit Executive (CCE).
The original objectives of the accreditation program remain today. They are to 1) raise professional standards and improve the practice of business credit management; 2) identify and give special recognition to individual credit executives with specified levels of experience; 3) enhance the function of business credit management as an important contributor to company profits and the business credit executive as a key member of company management and 4) assist the entire business community in establishing an objective measure of an individual's knowledge and experience in the field of business credit management.
Mr. Glaus was an advisor to Dun & Bradstreet and other professional/mercantile agencies through service on panels and advisory boards. He was an education consultant for the National Cement Credit Association and long-time advisor to a western boot credit group. He also served on many creditors' committees nationwide.