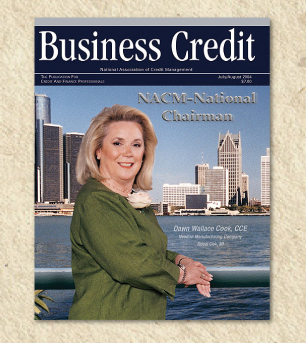 "Commitment by management to educating their employees will be validated by the addition of profits to the bottom line," she continues. "This will make the credit department a profit center for the company."
Dawn has been committed to the education process. She will tell you that the strong foundation her career is built on, is that of education—and a commitment to professional excellence. She obtained the CCE (Certified Credit Executive) designation and was selected as the NACM National Credit Executive of the Year for 2000.
Dawn advocates attending monthly Affiliate meetings and Regional and National conferences. She believes in serving on Affiliate and National committees and being active whenever an opportunity arises. "Volunteering is the backbone of a successful association," she says, "and networking is a benefit unto itself"; noting a recent incident where she called NACM colleagues for advice on a preference action and as a result, was able to establish an ordinary course of business payment defense.
Dawn believes that when you join an association, you don't just stop there: rather, that's where you start, by getting involved, becoming an active participant, supportive of association activities and initiatives. Whether it is NACM National, CFDD, FCIB, CRF, the local Affiliate or a national department—get involved. Learn, absorb, challenge yourself. Then give back to the organization that has made you a success by volunteering and mentoring. An association is made successful by its active members.
Dawn Wallace Cook is an outstanding example of the successes that can be attained when you put your mind to it. Add a portion of education, mentoring and service and you will have a successful credit professional who serves her profession, her association and her constituents with diligence and honor.
DAWN WALLACE COOK, CCE
Chairman, 2004-2005
She was a bright and efficient young woman. She had learned to make the most of every moment and opportunity. When a time came that she needed to work outside the home, she relied on friends for a recommendation. As friends always do, someone knew someone, who needed someone!
The young woman was hired by a company on a temporary basis and was very successful. Following an acquisition made by the company, she was placed in charge of all credit-related tasks for the new and larger company on a full-time basis. Realizing immediately that she had a need for more education and information to be successful in her new position, she did as she always had—she depended on her networking contacts to lead her to the right place, and they did.
The right place for her was NACM. Her introduction to NACM came out of need—not accident. NACM and its many arms provided her with the opportunities for education, networking and professionalism that she required. The young woman made use of all NACM had to offer. As she excelled she began to give back to the organization. She served on Boards and Committees wherever possible. The organization prospered from her involvement as it always does when members are active and committed.
This young woman is Dawn Wallace Cook, Chairman of this year's NACM Board of Directors. Her journey began with a temporary job and has brought her to the present time: today, Dawn is Treasurer of Newton Manufacturing, a company based in Detroit. The company has grown from a small local company to one with global business. The changes in the operation of the company were easy for her to prepare for because of the training she received through NACM. She will tell you that her success has been possible because of the solid foundation she acquired through NACM education and involvement.
Dawn believes that the traditional role of the credit manager will continue to change dramatically in this country. In order to be successful, the credit professional of today and tomorrow must be willing to learn new ways to do their job. They must be able to quickly adapt to new and more efficient and effective ways to manage their responsibilities. The global market will require more knowledge and increased understanding of cultural differences, economic changes and diverse work ethics espoused by companies around the world. Credit managers will have to reinvent themselves continually, so they are able to anticipate the changes before they take place. Just staying up with today's markets is not enough to ensure success in the future—you must always be one step ahead of the present.
As economies go through different phases, whether up or down, the credit department is not usually looked at as a profit center in most companies. The credit manager must sell management on their ability to make a contribution to the bottom line. Educating management on the need for good credit professionals is the job of the credit manager, believes Dawn. Education is the key to that end. "Every credit manager should make membership in NACM a condition of employment," she says. "That is the first step to transforming a company from ordinary to extraordinary."