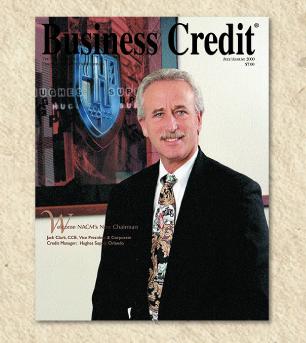 Jack has served as a member of the NACM-National Government Affairs Committee for many years and completed his term as committee chairman in June. He credits his involvement with the Government Affairs Committee for providing him with an understanding of how an organization can have a positive influence on legislation at a national level. "As a united, national organization, NACM's voice is heard at the federal level. The toughest job has been to educate Members of Congress and regulatory agency officials from, for example, the Federal Reserve Board and the Federal Trade Commission, on the subject of business credit. The education process is an ongoing effort, which is where NACM-National's presence becomes key. NACM's role has been to educate and help legislators understand that business credit and consumer credit are very different from each other and that they must consider what impact new laws and regulations may have on the flow of business credit."
On the local level, he was instrumental in founding an Improved Construction Practices Committee (ICPC) in both Orlando and Tampa. After Hurricane Andrew swept through Florida, there was a monumental surge in the building and construction industry. As with any explosive growth, many construction issues emerged; there was a myriad of lien rights and unfair business practice issues. In fact, there were so many lien law issues that emerged, several different factions began a movement of change to the Florida Lien Law. Many of the proposed changes would have removed the protections that good lien law affords to suppliers. With the momentum to change only some of the law, Florida Governor Martinez appointed a Lien Law Study Commission to review State lien law in its entirety rather than attack only parts of the law. Jack was appointed by the Governor to serve on the Commission, representing suppliers.
The Commission studied legislative issues for one year, which resulted in many positive changes to Florida's lien laws. He proudly added that "my appointment to the Commission gave me the opportunity to understand, first-hand, how successful a cohesive, united group—with the same goals—could be in affecting legislation that was good for everyone." Jack's participation in the Commission led to the formation of the NACM Tampa Improved Construction Practices Committee comprised of building and construction industry credit professionals. The mission of the ICPC was to monitor legislation that would adversely impact construction suppliers. An Orlando Improved Construction Practices Committee was also formed. Eventually, the Tampa and Orlando ICPC committees were successfully merged into one Florida state committee. "Not only did this joint effort between the Orlando and Tampa Affiliates forge a strong and lasting alliance between two associations—and between members from two associations—but it also strengthened the Committee. Today, the ICPC of Florida is known as the foremost authority on legislative matters for the construction industry in the state and has been nationally recognized for its successes."
One doesn't need to look any further than Jack's track record to see his commitment to professional volunteer service. In addition to his continued dedication to the ICPC of Florida, he served on the Legislative and Education Committees. His service on his local Affiliate's board culminated in his serving as Chairman of the Board of the NACM Affiliate in Tampa, NACM Florida Gulf Coast, in 1994. At the National level, Jack's commitment speaks for itself—he has served on the Education, Government Affairs, Accreditation, Improved Construction Practices, Strategic Planning, Affiliate Liaison, Nominating, Budget and Finance and Negotiating Committees. He deservedly received the NACM National Credit Executive of the Year Award in 1997, an award bestowed to one individual each year who exemplifies the qualities of a leader in the business credit profession.
While Jack's "home" base is the NACM Florida Gulf Coast Unit in Tampa, he is proud of Hughes Supply's membership in more than 25 Affiliates around the country. Hughes Supply employees actively participate in NACM activities nationwide, attending CAP programs, seminars and many national activities. Hughes Supply believes in NACM, supporting several NACM local and regional industry credit groups along with purchasing many services through local Affiliates. Many Hughes employees also continue to give something back to the credit profession by volunteering and working on local committees and Boards as well as many national committees. "I am lucky to work for a company that has always understood and appreciated the effect that credit has on its business. It has been their willingness to recognize and support the credit effort that has added to our success in the industry."
Jack's continued participation and involvement for the past 20 years at the local and national level gives him a unique perspective and a broad range of experiences from which to draw upon as he takes on the new challenge of serving as the Chairman of NACM-National. He has a keen understanding of how it all fits together: how NACM supports, educates and serves as a catalyst for the credit function as well as how NACM—by listening carefully to its membership—can continue to gain momentum and strength. He understands how credit gains strength through NACM, both locally and nationally. He remains committed to the organization as a volunteer leader, and more importantly, as an NACM member.
Jack believes that member involvement is critical to the success of NACM. As Chairman-Elect, he was able to accomplish a realignment of NACM-National's committee structure, creating several new committees and updating and refocusing the goals of existing committees. He enthusiastically said, "More committees mean more member involvement. By adding to the slate of national committees, members will have the opportunity to not only shape National's agenda but to participate in positioning NACM as the leading provider of information and services to the credit profession."
When asked what he would most like to see accomplished by the NACM organization, Jack was quick to answer. "I want to bring recognition and respect to the credit industry for its contribution to the business community. There is no greater way to accomplish this than through NACM—both locally and nationally. We have a great opportunity to increase membership through the nationwide Affiliate network by adding value to a local NACM membership. Adding value will increase membership nationwide, and increasing membership will provide the funds needed to deliver enhanced products and services to the membership. The NACM member will be the benefactor of this cycle—more value means more benefits." He added, "With a strong Affiliate network, supported by a strong national organization—nothing will stand in our way."
In closing, Jack reflected that "I envision NACM as the quintessential one-stop-shop for credit management information and education—providing members with the tools they need to look for solutions to new problems and to find ways to bring greater value to their firms. As we expand our businesses beyond today's geographic boundaries and work to position our companies to compete globally and electronically, NACM will be there to assist us. I personally look forward to being part of that."
JACK R. CLARK, CCE
Chairman, 2000-2001
Jack Clark, CCE, Chairman of NACM-National is Vice President and Corporate Credit Manager of Hughes Supply, Inc. headquartered in Orlando, Florida. Hughes Supply is one of the largest wholesale distributors of its kind, providing logistics and fulfillment services to construction, industrial and infrastructure markets.
I asked Jack, as the new NACM-National Chair, how he envisions NACM's role with regard to the future of credit management. "Credit is a very dynamic profession," he commented thoughtfully. "As such, it is critical that we, as credit executives, learn to meet the challenges created by a more competitive business environment. One way we can accomplish this challenge is to provide more value to our companies through our NACM membership. In the past, NACM focused primarily on sharing account information and practice methods. That was why the Association was originally founded. Now, however, as the role of the credit manager continues to change and expand, our members need ongoing access to up-to-date information and educational opportunities. NACM's role is to provide these services, and in doing so, raise the profile and increase the recognition of the credit management profession as a whole."
When asked about the major changes he has witnessed in the industry during his affiliation with NACM, Jack observed, "First and foremost, technology has dramatically changed the business credit function. Technology continues to change at a rapid pace and has provided us with instant access to information. Information is what drives credit. Improved technology allows for quicker response time and increased availability of information. It has literally changed how we do business."
"There also has been a dramatic change in how the credit function is perceived. In the past, credit was viewed at best as a necessary evil and as a cost center. Today, the credit manager serves as a pivotal, key member of the management team. The credit department has evolved into an information warehouse, and the credit manager has assumed the role of negotiator and deal maker. Credit has taken on a support and customer service role; companies look to the credit department to support sales and marketing, and it is key to enhancing company growth. The credit department has become a value-added department. This was brought into focus in the early 1990s because of the struggling economy; credit gained considerable respect when it became the credit department's role to figure out a way to make the sale happen. A more positive image continues to evolve as credit becomes an integral part of customer service and financial support services."
"Another significant change taking place is the level of competition. Credit departments can no longer survive following a rigid credit approval formula or rule with an "iron clad fist"—a method often employed in the past. Competition for business is very keen. When the competition factor is combined with the sharp increase in the number of consolidations, mergers and acquisitions, today's business environment demands that credit management services not only be supportive but flexible as well. The successful credit manager is a good business person. We must be a financial analyst, a numbers person and part soothsayer. (I have a crystal ball on my office desk!). Today's credit professional must be able to look at businesses analytically. It is a must to understand how a customer conducts his business while understanding what is happening on an industry-wide scale. And, of course, we must be an economist and understand the big picture. It is the credit department's responsibility to educate management on all of these issues. Let me add that I believe a good business person must understand the concept of "win-win"—both the customer and the seller must each gain something through every sale. In this competitive environment, it is essential to resolve both the short- and long-term problems of customers—to keep the balance, so to speak. Businesses often fail because of poor credit practices. We all lose when this happens."
"Government regulation has also made it increasingly more difficult to obtain and use information. Legislators and regulators seem to want to regulate and treat business credit as they do consumer credit. While on the consumer side, where many regulations stem from privacy and protection issues of the consumer, both legislators and regulators alike do not understand that over-regulation of commercial credit will slow down the free flow of commercial credit. Keep in mind that business credit is the single largest source of business financing, by volume, even exceeding bank loans. While bankruptcy was historically viewed as a legal problem, it no longer seems to carry a stigma. Bankruptcy is commonplace and is now perceived by many merely as a 'banking or accounting adjustment' and must be addressed legislatively, because it has become a norm in the business world. A lot of work remains to be done in the regulation arena."
On a more philosophical note, Jack reflected that he is one of those people who thinks that change is good. Jack welcomes change, especially when it challenges us to reach beyond the status quo of our environment. "We have to be prepared for change and learn to willingly embrace it. Sometimes, it's even good to initiate change—to become a change-maker. How you react to change helps to determine whether it is good change or bad. And, yes, some changes are easier to deal with than others. It's much easier to accept change under adverse conditions; we are all eager to accept change that will force improvement. We must learn that change is a constant on the horizon and to read its signals and react quickly. The real challenge is to learn how to initiate change when things are going well—to examine procedures, issues and protocols and search for change that will make a good environment even better."
One needs to look no further than Jack's own employer, Hughes Supply, to see his philosophy on embracing change exemplified. As Corporate Credit Manager, Jack was responsible for the management of Hughes' entire credit operation, encompassing the extension of approximately $480 million monthly in credit, the cash application process, collection reconciliation, and litigation. As a member of a select executive management team that has succeeded in making Hughes Supply an industry leader, he has managed the Hughes Supply Credit Operation which has grown from a 16-person team with sales of $176 million and monthly receivables of $16 million 20 years ago, to a nationwide team of 150 members with sales for the fiscal year ending January 28, 2000 of $3 billion and monthly receivables approaching $500 million. Today, he serves as vice president and corporate credit manager, with the presidents of each of Hughes' five strategic business units reporting to him. Jack celebrated his 20th anniversary with Hughes Supply this spring.
When asked about his career path and how the NACM organization impacted it, Jack responded, "A great deal of my professional achievements are directly attributable to NACM. Many years ago, I was working for a wholesale distributor in Atlanta. It was a relatively small company where everyone wore many hats. Someone needed to take over the responsibility for the credit function and no one wanted that job. So, I was chosen. Knowing virtually nothing about the extension of credit, collections, litigation, negotiable instruments or applicable Federal and state laws, I turned to the NACM Affiliate in Atlanta. With their help, I quickly found myself off and running on a career path that I never knew existed. I found that the credit function was so diverse and so challenging, that I've never looked back. I truly enjoy the challenges that the credit function presents, and I am proud to be part of the credit profession." Jack's professional success was acknowledged when he received his company's President Achievement Award in 1993.
When asked more about his professional achievements, Jack's answers centered around the areas for which he has true professional passion: education, government affairs and volunteer leadership. Jack earned the NACM Fellow Award (now known as the CBF designation) in 1985 and was the first person in the state of Florida to earn the NACM-National ABCE designation, which today is known as the CCE designation. His enthusiasm for professional achievement is contagious; he can be credited with introducing NACM's most prestigious professional designation in the state of Florida and has encouraged countless peers and employees to become involved in the program.
He is an avid believer in professional continuing education and truly "walks the talk". Jack has attended many locally sponsored educational seminars, ac-tively supports NACM and CFDD regional conferences, and has attended every national Credit Congress since 1988. "I am very fortunate; Hughes Supply has always supported and encouraged my participation in NACM activities at all levels—locally, regionally and nationally," Clark confided. He was a catalyst in introducing the Credit Administration Program in Florida, and has actively supported it by encouraging Hughes employees to complete it. Jack completed the NACM Graduate School of Credit and Financial Management in 1994. He credits that program with enhancing his professional career and enabling him to achieve the position he holds. Jack added that "my GSCFM experience continues to contribute to my personal and professional growth by allowing me to think and manage on a global and executive level."