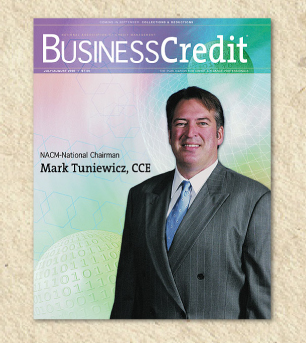 As Tuniewicz's career progressed he became more immersed in business credit, making improvements through formal process evaluation methodologies at major firms. He has served as the U.S. Credit Manager for Konica, Manager of Credit & Collections for Intuit and now works with GN Netcom, the world's largest producer of wireless telephone headsets. His management skills have been honed by working with large staffs. "In my current role, we utilize a scalable staffing model which includes an internal team of 35, plus an additional 55 outsourced in 3 domestic locations."
His knowledge and experience in the profession of business credit has put him in demand as a speaker. He has delivered speeches both nationally and internationally.
Last fall, he gave a speech in Amsterdam to a group of credit professionals on the evolving role of credit executives. His theme was that in order for them to be effective business partners, credit professionals must evolve in their roles and become even more broad.
He also has written articles for a number of publications, including Business Credit. He is someone who knows you have to be comfortable with the details while also addressing the big picture. "I never imagined in high school that I would enjoy being a cash application geek!" he quipped. Tuniewicz also serves as an Expert Witness in bankruptcy cases for Fortune 1000 corporations and bankruptcy attorneys, specializing in preference defense and prosecution. He is certified by NACM as an Expert Witness.
There is no doubt Tuniewicz is stepping into his new role within NACM with enthusiasm and optimism. He is committed to putting his considerable experience and knowledge to work to help make NACM the "indispensable resource" for all its members. "Today, our Affiliate system is threatened and must adapt to our changing competitive landscape in order to succeed. So, too, will our National organization protect and expand its market. I know our competitors, their strengths and weaknesses. None of them have our brand recognition and range of service offerings. More importantly, none have our committed membership."
Because of a change in NACM's leadership year, Tuniewicz's term will be much longer than the norm. It appears he plans to make the most of it, judging by his first meeting with his new board—usually just a brief meeting. "During our first meeting after Credit Congress closed, the Board agreed to evaluate potential new service areas, consider certain possible acquisitions and to reinforce key existing areas. Committed and energized Board members have stepped up to take ownership and execute within very tight timeframes. Our competitive environment demands that we as a Board hit the ground running."
"The time for action has arrived." Stay tuned.
MARK TUNIEWICZ, CCE
Chairman, 2006-2007
WHEN IT COMES TO NACM, NEW Chairman Mark Tuniewicz has 20-20 vision. His vision for NACM is clearly focused on implementing NACM's mission: "To position business credit professionals for success while setting standards of excellence in business credit and financial management." As NACM turns its attention towards action, "I think our membership can relate to my sense of urgency. Every day they are called upon to make decisions and implement them quickly, just as the Association must," Tuniewicz said. "The goal now is to build upon the solid foundation that makes NACM so great. Together, with the help of all of our stakeholders—our members, our dedicated and capable Affiliates, our Board and Committee members—we can take NACM to an even higher level of excellence. If we harness our collective energies and talents, NACM will be the only organization every credit professional will rely upon to help them to be the best in class."
Turning to more specifics, Tuniewicz noted that he would like to increase the number and type of educational course offerings, increase participation in NACM's Graduate School of Credit & Financial Management and set a five-year attendance record for Credit Congress next year in Las Vegas. He is a fan of grassroots lobbying efforts, and wants to continue the improvements he's noticed recently in Business Credit magazine. "I want to increase the input the magazine staff gets from our members, so that the articles and other editorial offerings reflect what our members need to know. Our magazine must be personally relevant to every member."
On the matter of ethics, he said that NACM can expect to see an update to the Association's Canons of Business Credit Ethics, the guiding ethical document for business credit professionals. "This is the ethical touchstone for the membership, but our current document is pre-Enron by about 50 years," he noted. Again, he is striving for relevancy.
In order to reach new levels of achievement, Tuniewicz said he believes NACM should dedicate the necessary resources to do so. "If we need to hire more staff, or make larger strategic investments, then we will take that decisive action."
Understanding the perspective of the Affiliates is something for which Tuniewicz is well equipped. He has been a board member of four affiliates—NACM New England (Boston), NACM Rhode Island & Southeastern New England, NACM Connecticut's New Haven chapter and The New York Credit & Financial Management Association (now known as the Federation of Credit & Financial Professionals).
"The affiliate system is certainly the heart and soul of NACM," Tuniewicz said. "I think the insight into the needs of our Affiliates that I've gained will enable me to help our organization grow." Also, since 1997, he has served on the National Board of NACM, completing a comprehensive view of the entire structure of the organization. "I know the issues and the people—that helps a great deal."
Tuniewicz understands the technical aspects of business credit from an academic and practical point of view. He is a nationally recognized expert in deduction management and prevention, as well as process evaluation and improvement as a means to improve receivables performance.
A Boston-area native, he graduated with honors from Northeastern University with a B.S. degree in Finance and International Business. His studies in the areas of data analysis and econometrics help him understand some of the more complex aspects of business credit, such as credit scoring and risk analysis. By way of contrast, while still in school he got a job working in mortgage collections with a local savings and loan. This experience, Tuniewicz said, "gave me a deep sense of how personally our profession can touch people's lives." His own life was touched last year when he made the difficult decision to leave his position at Intuit in San Diego for the East Coast when his father's illness became a significant issue. "Family always comes first," he reflected.