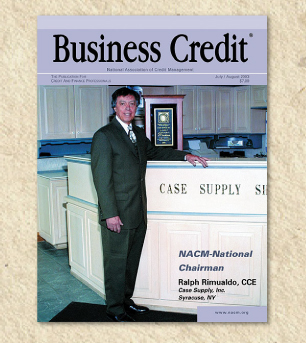 When asked what his favorite experience over the past years with NACM has been, Ralph said that doing the eight educational programs for his local affiliate was very rewarding. He could see that they were helping to educate the members. Additionally, there was a great response from the attendees with regard to what was being done for them. He also enjoyed establishing the credit trade groups, which helped to increase membership and delivered a needed service to Affiliate members. Ralph says that his service on the National Board has always given him a feeling of contribution to the association; and the friendships and knowledge gained in the process has been personally and corporately very rewarding. It is clear that being Chairman of the Honors & Awards Committee was an exceptional experience for Ralph as well: "It is a lot of work to process all the applications—but notifying the award recipients is truly a great feeling," he said.
With all the downsizing that has gone on in the workplace, Ralph believes that the challenge today is to "get along with less people and still do what needs to be done to maintain the turns in accounts receivable and the necessary responsibilities to make accurate decisions." Other issues he sees are the (constantly changing) economic conditions—both domestically and internationally. "The continual corporate structure changes create a disruption in the work environment that puts more pressure on all management positions from those within the corporation—and to those who do business with the companies that are going through changes," he points out. "Keeping employee's attitudes up and focused during uncertain times is an extremely difficult challenge, as well."
He stresses the value of why continuing education provided by NACM is so important to today's leaders. Good leadership needs knowledge in order to lead effectively—not to overpower employees, but to guide them and to be able to evaluate their performance. You never want to inhibit the growth of your staff—but should allow them to develop their creativity and allow your leadership and knowledge to appraise the results.
Ralph's vision for NACM is to ensure that NACM continues to be in the forefront of providing information and services to the nation's credit executives. "…to continue to enhance the profession by giving the credit executive the necessary tools to improve performance and raise the level of professional acceptance" is his goal. He wants NACM to strive to meet the needs of members and prospective members by listening to those who rely on NACM for support, education, legislation issues and all services that are important today and in the future. Ralph sums that up by saying "we must move and improve in this constantly changing world."
During his year as Chairman, Ralph wants to work towards ensuring that NACM maintains its importance to its members, and continues to find new ways to offer more to members. "Under the structure of the new affiliate agreement there is a provision to develop new opportunities for NACM and the affiliate network," he points out. He hopes to continue the work that was started in the past year by getting the Affiliate Agreement signed and putting it into action. "We have taken some steps to improve the governance of NACM and it is important to continue to improve upon these efficiencies in order to maintain a solid, solvent association to pass on to those who follow," he says. "I admire what NACM has done for over 100 years, and I will work to maintain the integrity and the mission that we as credit and financial executives expect and deserve."
RALPH RIMUALDO, CCE
Chairman, 2003-2004
Unlike many who eventually choose credit as a career, Ralph grew up understanding credit, as he went with his father on rounds to collect his accounts receivable when he was a kid. It is no accident that he ended up in that field as an adult.
While in college one of Ralph's roommates was studying accounting. His curiosity got the best of him and he soon found himself also studying accounting. He says that the numbers in those boxes are what caught his interest. Even though he is mechanically inclined and may have made a good engineer, he has no regrets moving to accounting. The background in engineering math has always helped him to understand accounting equations and theory.
After being in public accounting for three years and seeing the problems some of his clients had with their collections, he says he developed a sense of what to do. Then, the experience he had prior to taking a position at Case Supply provided him with the ability to oversee many functions of the business—including the credit department. However, he says it was when the credit manager at Case went on a two-week vacation, and he filled in for her, that he became aware of the fact that there was more to credit than just collections.
Additionally, he noticed that she had no records or credit files—and was releasing orders to her favorite sales staff: not taking into consideration the true ability of the account to pay. When she returned, he made a change in the department: the functions of the credit department became his responsibility, as did supervising the bookkeeper.
After taking over the credit department as an additional task of duty, the bookkeeper accompanied Ralph to a credit seminar where they both acquired some credit knowledge—but it also made them realize that there was more they needed to learn. At about the same time, a local credit manager from Westinghouse Corporation suggested to Ralph, during the course of a conversation, that he should attend an NACM meeting. He mentioned that it was a great time to join, as they were having a membership drive.
Ralph was impressed with the enthusiasm and the overall quality of the members and the information that came out of the program at his first visit to an NACM meeting. "I joined and got involved immediately," he says.
For the first two years he was active on a few work groups, and in the third year became a member of a newly-formed Education Committee, which was to present eight half-day programs to Affiliate members each year: one taking place each month, from September through May. The Chairman of the committee changed jobs before the first program ever took place, and Ralph was elected to take his place. The program was run for three years, and it was a great success.
After the education program ended, Ralph was assigned to Chair the Membership Program. Under Ralph's leadership, they developed a program to award prizes to those members who brought in new members. The grand prize was a portable TV, for bringing in ten new members. There were also $100 bills for bringing in a lesser amount of new members; and portable radios, etc. depending on the number of new members sponsored. The program did well—the Affiliate gained many new members.
The success of the two programs put Ralph in the spotlight, and he soon became President of local Affiliate Board. During his tenure, he developed a credit trade group program with another Affiliate. That also proved to be successful, and resulted in many new members. This service provided needed grass roots credit information, he says. Ralph again served as President of the Board two years later when the incoming President transferred to another city with his job, creating the vacant position.
After having served his second term as President, he went on to serve on every committee within the local Affiliate. He also worked on improving the programs and the educational options offered to members. Ralph's desire to move to the National level came about after he spent an afternoon in Syracuse talking with the NACM-National Chairman about NACM and the things that the Central New York Affiliate had accomplished under Ralph's direction and involvement. The Chairman suggested that Ralph apply to the National Board, since he had a desire to move up in the Association. Ralph took the next great step, and was promptly elected to fill a position for a National Board member that was unable to complete his term.
During his tenure on the National Board, Ralph has served as a Director, Vice Chairman of the Eastern Region, Chairman Elect, on the Executive Committee, both Chairman and member of the Honors & Awards Committee, and on the Budget & Finance, By-Laws and Strategic Planning committees, as well as other work groups. In addition, he attends NACM's Credit Congress each year, going to as many educational sessions as possible. Ralph attained his CCE designation four years ago.