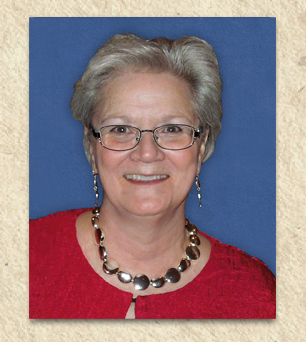 Our commitment is to the future...more projects, more programs...all with one simple goal: to stand ready to assist you in any way that we can, help raise awareness about the important role you play, and help our organization move forward. I am looking forward to our future, and I am looking forward to working side-by-side with you to reach new heights.
***
Robin Schauseil was appointed President and Chief Operating Officer of the National Association of Credit Management in 2002. The announcement was made by Val Venable, CCE, Chairman of the Association, and Rick Rehn, CCE, Vice Chairman - Central Region and chair of both the President Search and Selection Committees.
Having begun her tenure with NACM in May 1988, Robin brings a wealth of knowledge and experience with her in this role, having served in various capacities for the past 14 years prior to this appointment. Robin began her NACM career as the Convention Director and was promoted to Vice President of Education in 1994. Robin has made significant improvements to the NACM Professional Designation program and executive education programs. As Executive Vice President, she has worked with many of NACM's national committees along with supporting and advancing the mission and vision of the National Board.
Before joining NACM, Robin worked for a political consulting firm on Capitol Hill and prior to that, served on the staff of Aviation Week & Space Technology magazine, a McGraw-Hill publication. She holds a BS from Georgetown University.
ROBIN D. SCHAUSEIL, CAE
President, 2002-
I truly am honored to have been selected to lead our organization as your National President, and I pledge my commitment to each of you that I will continue to enhance our organization. NACM belongs to us—it's about you, the members, about our local Affiliates...and about the value that, together, we bring to each of you.
We have made a lot of progress in the past year and I'd like to share some of our accomplishments with you. As you all know, NACM needed to develop a national membership marketing campaign—a campaign to attract new members to join our local Affiliates. I am proud to tell you that we successfully launched such an effort in May, through the work of the Strategic Initiative Task Force. We created and sent marketing material, that can be customized for each Affiliate, to each Affiliate for use with this campaign. We've named the marketing campaign—Strength in Numbers—and you will see parts of it proudly displayed during the next year in advertisements and on the national web site.
This summer, NACM will embark on a public relations program—we are going to get the NACM brand name out there in the public eye—all with the goal of gaining visibility for the business credit profession. Business credit is truly the fuel that drives the engine of our business economy. The goal of this public relations campaign is to make that fact known nationwide. We will rely on our public relations partner, Frost Miller, to help us achieve more exposure with the press as we aggressively make an effort to raise awareness about the importance of the role the business credit professional plays in the corporate world, as well as about the value the credit department brings to the health and growth of every business.
NACM has also created a credit index, modeled after the Purchasing Managers index. The index has been in a test phase for the past four months, and is tracking well against all of the leading business indicators. I would like to extend our thanks to those of you who have participated by completing the survey while in its test phase—we truly appreciate your help. We will work this summer to recruit additional volunteers to participate by completing the survey each and every month.
We have updated the National web site. In June, we launched a new career center—a place for credit professionals nationwide to post resumes and to recruit new credit personnel for their companies. We hope that you will find the new career center easier to use and a cost-effective way to advertise for new personnel when the occasion arises.
Education continues to be of the highest importance; we are committed to bringing you the best offerings possible at the best possible price. The annual convention continues to be a great value for the cost; I hope that you will budget to attend next year's annual convention scheduled for Orlando in early June, 2003. We plan to add to our offerings of audio teleconferences, increasing their frequency from once a month to twice a month.
The National audio teleconference program is a great way to bring your staff up-to-date on issues that impact your profession at a great price. There are many regional conferences and educational sessions scheduled for this summer and early fall as well: The Western Region Conference is scheduled for late August in Las Vegas and the All-South Credit Conference will be held in San Antonio in mid-September. CRF will host an Open Forum in mid-August and the NACM Loss Prevention Group will host is mid-year meeting in New Orleans in mid-September. The NACM Government Receivables Group will hold a conference in September in the Washington, DC area which focuses on Federal government contracts, and defining allowable, billable expenses. FCIB, NACM's international association, will host a working seminar on how to sell and get paid in Asia. Whether you need to learn more about preventing business credit fraud, or need to learn more about permissible, billable expenses when doing business with the Federal government—NACM has an educational program for you.