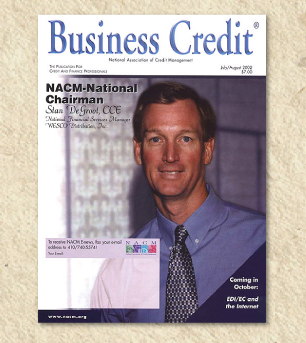 Stan also feels that the challenge of supporting the sales function, while at the same time following good business credit practices to ensure profitability and good risk management, is another big issue for credit professionals today. "What I mean is, depending on what industry you are in, especially after the events of September 11th, the slowing economy has presented a whole new set of challenges. Companies have had to be aggressive, creative and in a constant mode of change to rise to the challenge of expanding sales to keep profits healthy." Stan went on to say that "the role of today's credit executive is to make sales happen, while keeping a vigilant eye on receivables and the bottom line. We have a huge responsibility; we need to make solid and informed decisions for our company." "The positive side to these new challenges," he continued, "is that it has forced all of us to develop a deep understanding of our company's performance goals while motivating us to develop a more solid relationship—as partners—with our sales force. He added, "we are all bound to make good decisions as partners rather than as adversaries."
The Vision
Stan has a vision for NACM, and believes that the role of the National Board is to act as the association's visionary body. Stan's focus is what he refers to as the three "Rs"—renewing the vision, reviving the spirit and recreating the success of NACM and its members. Stan recognizes that the role of committees is extremely important; committees take the pulse of the NACM membership and are the developers of the Board's visions. Stan summarized the connection between the Board and National Committees by saying that "the Board must set the vision, and pass that vision on to our National Committees, which can research and develop the right path to attain the vision. Committees are needed to provide both the input and the research to the Board regarding ideas and, with the joint efforts of staff, recommend how to turn thoughts and initiatives into action." For example, the Board comes up with a vision for a product or service which would provide great benefit to the credit profession. The committee researches its feasibility, decides that it is a good idea. The committee's role, with the help of staff, is to design a plan of action and implementation that the Board can discuss and consider.
Stan is looking forward to his term as National Chairman. He says he has always strived to maintain a balance between his professional life, his family life and spiritual life and that he thinks this will still be possible, albeit with some adjustments. He knows it will be taxing, but is counting on active support from other Board members. He is fortunate to also have the support of his employer, WESCO Distribution.
The Message
Stan's message to members is to "Get involved"... volunteer for at least one thing at the local or national level. And keep a balance in your life. If everyone volunteers for one thing, it will help everyone maintain a balance, and no one will become over-committed." He reflected on Val Venable's recent commentary about how the truly educated never graduate saying that "when you learn more, it not only helps you personally, but you are better equipped to help others." Stan extends an invitation to all members to join in Renewing the Vision, Reviving the Spirit, and Re-Creating Success for themselves and their association, NACM. Won't you join him?
STAN DEGROOT, CCE
Chairman, 2002-2003
More than a decade ago, Stan DeGroot heard about an NACM electrical wholesale distribution trade group from someone in his company, and decided to join the group. That decision led him directly to his local NACM Affiliate in Denver, Colorado, and he has been a member ever since. In the construction industry, distributors generally deal with less capitalized customers which pose higher credit risks than more capitalized companies such as manufacturers or the distributors themselves. Seeing the value of belonging to an NACM industry trade group, it was an easy decision for Stan to become an active member—networking, learning and expanding his depth of knowledge of the business credit profession.
Some Background
Stan has served on NACM committees every year since 1994. That was the year that Stan completed the NACM Graduate School of Credit and Financial Management at Stanford University in Palo Alto, California. While attending the GSCFM program, he made many friends, gained a greater understanding of credit and finance related issues that improved his professional skills and made some suggestions and observations about the program to make it even stronger. Following his own principle that you "don't complain without either suggesting solutions or being willing to be an agent of change," he committed to doing both. Stan was recruited to serve on a task force, challenged with the task of reviewing all of NACM-National's educational programs, from the courses and process required for the professional designation program, to the scope and content of NACM's executive education programs. That, he says, is how he first "got involved" with NACM-National. Since then, Stan has served on many national committees, including the Education, Strategic Planning, Finance and Budget, Policy, Improved Construction Practices, and Government Affairs, providing feedback, ideas—but more importantly, helping to improve many facets of the NACM organization. Stan also joined the ranks of the National Board, having met the eligibility requirements of serving on the Board of NACM of Arizona.
"Serving as a volunteer member of local committees and my local board helped me to gain a better understanding of the local Affiliate," says Stan. "It was really when I got involved in the task force for the Graduate School that my understanding was broadened regarding what NACM is all about. Those are two things that really got me thinking about and understanding NACM." Reflecting on his National Board service, Stan said "overall, it has been a great experience. The key is serving; helping all members to be successful, and promoting the credit profession."
Stan began his career in credit after earning a degree in Business Administration from Dordt College, Sioux Center, Iowa. Since then, as part of his own professional development, Stan has attended Credit Congress every year since 1994, the Legislative Conference, NACM's Graduate School, and the Managing Risk in Receivables and Advanced Financial Analysis Techniques programs. He earned the prestigious Certified Credit Executive (CCE) designation in 1996.
When asked how NACM programs such as the Graduate School and CCE designation have impacted his career, he responded, "in a word—recognition." He went on to say that "each effort undertaken has demonstrated my desire to learn, and to improve myself. Also of great importance is that every program I have attended has increased my expertise in some way, bringing value to my employer and my own career."
"Within the last year or two," he continued, "whenever my company, WESCO, has done a search for new employees, we have included the preference that any potential candidate have an NACM designation. People may not know what that is, but if they don't know what it is, it generally results in them asking about it and gives us a chance to tell them about NACM, the NACM professional designation program and to get the message out." Stan feels that recognition of the NACM designations commands respect among NACM members and is also gaining more recognition outside NACM circles.
The Issues
Commenting on the challenges credit managers face today, Stan says that in his opinion, the greatest challenge is the need to understand technology and the many efficiencies it presents to the credit professional's time. "You need to understand what is out there in the way of technology and how it is going to affect you in your current position," he remarked. He also indicated that the challenge he believes everyone faces on a daily basis is competing with other departments, within one's own company, for IS support. I think few would dispute this. "For example," he said, "I may identify something I think would really impact our efficiency—and ultimately, our contribution within the company, but in order to get the help of IS with this improvement, I need to get in line with every other department that is asking for improvements as well." He sums it up for all of us: "That is a big issue."