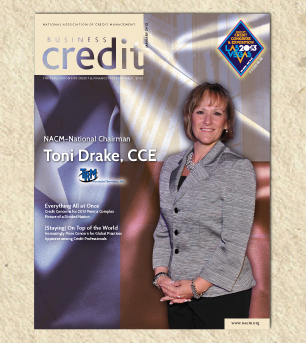 As Marshall sought a position on the NACM-National Board of Directors a couple of years ago, he came in with a "lead-by-example" attitude and noted the importance of empowering leaders and members at both the national and affiliate level to use actions and subsequent word-of-mouth efforts to promote things like education and participation in events. He intimated that it's now time to take word-of-mouth to another level and that National and affiliates alike need to toot their own horn more or employ "smack-in-the-face marketing," so to speak. Otherwise, many of the newest offerings and nuances of NACM and the affiliates may not be known or fully understood by the members.
"Just talk about these things more when you get in front of people at events and conferences, like Credit Congress," Marshall suggested, stressing not to assume the members already know. "Tell people in the audience exactly what we have to offer that they may not have known we even have. We need to be more aggressive at the national and affiliate levels so we can all benefit from getting more attention and thrive. We have to do a better job of getting information out on the evolution of NACM, like the developments within areas like MLBS [NACM's Mechanic's Lien and Bond Services] and FCIB, as well as the quality of National staff charged with developing and delivering services to all the members."
Marshall has also long stressed the importance of being entrepreneurial as an association, not just to survive the rough economic patches but to set the foundation to thrive. These days, he sees an NACM that is becoming, in some ways, not just a business management firm, but also a business itself. It's one of the reasons that developments within MLBS, in particular, have caught his eye.
"A lot of people are now wearing multiple hats," said Marshall. "Not only are the lines blurred, they're overlapping. Look at all the stuff we're doing to generate revenue outside of dues. Look at the services, like MLBS, we offer members. They are on the cutting edge—MLBS really gets it."
As for the singular big issue on which to focus for his 2012 tenure, Marshall is not yet willing to pick one. That's because he sees the role of chairman as a bit of an observe-and-react situation based on current events and trends. He noted, for example, that past chairmen Phyllis Truitt, CCE and David Beckel, CCE focused largely on FCIB because of the significant transitions occurring within that business division during their tenures. In essence, what happens in the business and credit world in early 2012 may change the course of action for the year, or even years, to come and demands a leadership flexible enough to react.
Vision
One other "E"-word that Drake relies on when she describes NACM is "excitement." "I'm so excited about this association," she said, referring to a number of recent developments in NACM's history that lead her to believe the association, and the credit profession, is on the cusp of being a real national force in the economy. "You look at our Credit Managers' Index and we're getting referenced in the Wall Street Journal and Yahoo! Finance. The credit profession is getting recognized in those venues," she noted. "My NACM"—National and the Affiliates—are really doing an awesome job promoting my profession and my value in the business press."
"I'm stoked that we're able to offer UCCs now," she added, referring to NACM's newly-launched UCC Filing Services under NACM's Secured Transaction Services (STS) division. "The examples are endless. The NACM National Trade Credit Report (NTCR) is an incredible product, and it was just a result of the Affiliates coming together and saying 'we're better together.'"
Continuing to harness that strength is what Drake will aim to do as NACM's 2013 chairman. "That is my vision: to continue to come together and continue to be premier from a national level as one united organization," she said. "I want every one of our members to think of NACM nationally. We can do it. We're already on our way. We just have to stay the course."
Taking a step back and picturing NACM's role in the global economy, Drake sees NACM's position as a provider of tools and services as a vital one. "We're giving members the tools not only to protect themselves, but I think we're giving them the tools to maximize revenue. We're giving them the tools they need to expand their sales base," she said. "This economy is still so precarious, companies can just shut down and say 'we're not going to take the risk' and I think that would be detrimental to our nation as a whole."
"We give people the confidence to sell a risky customer because they've got the information they need. We can keep the wheels of the economy rolling," said Drake. "That's the role we play for companies."
TONI DRAKE, CCE
Chairman, 2013
Evolution, Education, Excitement: Meet Your New National Chairman Toni Drake, CCE
In a conversation about NACM with Toni Drake, CCE, the association's 2013 national chairman, there are a few words that keep coming up. For whatever reason, they all start with the letter "E": Evolution. Elevation. Education. Exposure.
Credit professionals can expect words and concepts like these to serve as guideposts throughout Drake's tenure, as well as her own development as a credit professional through programs and opportunities offered by the association she now leads. "I was thrust into credit management right after I graduated from college in '81," said Drake, president of TRM Financial Services, Inc. in Midland, TX, who admitted that her origins were similar to those of most other credit professionals. "I relocated to Midland and actually changed jobs and went to another company and suddenly I got more involved with NACM Southwest. I got to know those folks and got introduced into the education, earned my CBA, my CCE and I've been hooked since then."
The similarities between Drake and most other credit professionals end there, however, as she's spent much of her time in teaching roles for NACM Southwest and getting involved with NACM on a national level. "We kicked up education in the Dallas area and I started teaching Credit Administration Program (CAP) classes in 1994 and 1995," she said. "When the Credit Congress was held in Dallas in 1994, I was asked to be on the national education committee, and that's when my exposure with the national association started. That's when NACM National began to design nationwide standards for the CAP and ACAP programs; up to that point in time each Affiliate was basically teaching what it felt was important. The National Education Committee examined every 'must have' element of each course and even rewrote NACM's cornerstone textbook, Principles of Business Credit. Together, staff and members, created an awesome lineup of courses and relevant course content."
This process of being exposed to NACM—the national association—didn't happen overnight, as Drake described it as a "piece by piece" process. "It's like an evolution," said Drake. "I was thinking about it the other day and it was not this exploding, 'A-ha!' moment. As I extended myself more, I began to get more involved and see the differences between my involvement locally, and my involvement nationally." The organization also evolved, recognizing how important education and information really was. A year or two after joining the education committee, she was elected to the national board, which she now leads.
As a card-carrying NACM member for nearly 30 years, when Drake refers to the association she refers to it as "we" rather than "they." "Even though I'm not employed by NACM, it's who I am," she noted. "Sometimes I don't know where I end and NACM begins." Much of this can be chalked up to Drake's ever-expanding palette of educational activities that she's both led and taken part in over the last several years. "It's been such an evolution for me," she said. "My involvement with education has been huge in the past several years because of the speaking and the teaching and the learning," Drake added, noting that this has been driven by a shift in both her participation and in the nature of NACM's services. "When I started, the only involvement we had was strictly with credit groups," she observed. "That's the lifeblood of the membership; that's so critical, but while my industry trade groups are still huge, education has become almost equally as huge."
Education
Indeed, when asked about the changes that have occurred in the credit profession and in NACM over her lengthy career, Drake's first answer is the broadening and enhancement of NACM's educational programs. "I think there's a lot that's different now. When I first started, no one was really aware of the education. I found that when I watched a lot of people, it wasn't a critical part of their membership to NACM," she noted. "Trade groups have always been strong, but I've seen education evolve over a national level."
By "national level" Drake means that the way education programs for credit professionals have developed over the years. "Everyone knew NACMs were there, but we have the big global picture of NACM. Instead it was these itty bitty pieces around the country," she noted, crediting NACM affiliates with fostering an environment where these portions of NACM's services have united across borders. "I see it with the cooperation of the affiliates trying to be a cohesive, almost seamless, organization, and trying to be everything to everybody in the credit profession."
This has at least partially driven the ascendancy of the credit profession in the corporate world. Much has been made in Business Credit and other outlets of how risk management was viewed in a new light after the last recession, and Drake has seen this process unfold in her own experience, among members. "I think people are seeing the value to the education, and I think they're seeing the marketability of it," she noted. "They're looking for credentials. You began to see people recognize those three initials after your name," said Drake, referring to NACM's certification program. "Early on it wasn't the universally recognized credential that it is now."
Other highlights of NACM's educational evolution have been the bigger recognition among companies looking to hire those who have completed NACM's Graduate School of Credit and Financial Management (GSCFM), of which Drake is an alumna. She also believes NACM pushed the value of education to the entire profession's benefit. "I think it follows the same route. There aren't people who say 'I went to college for credit,' they say 'I was thrust into the world of credit,'" said Drake. "But I think they're beginning to recognize the importance of the credit profession, the prestige of the credit profession in a company and the importance of education. NACM's been very good at keeping the education high quality, but also helping people to market that." "I think it has elevated the profession," she added. "They're no longer just the guy at the back desk."
Practically speaking, this has led to, in Drake's estimation, a real change in the process of managing a company's receivables and getting paid according to terms. "I think through the education we've discovered that there are tools to help people to get paid," she said. "Years ago, you called your customers and you sent letters." Now however, with a greater awareness of things like mechanic's liens, oil and gas liens and Uniform Commercial Code (UCC) filings, Drake noted that the profession looks considerably different than it did years ago. "They've discovered these high-level tools that help them do their jobs better," she said. "I just see it elevated to a different level, and I think that's been a slow process but I think it's become very important."