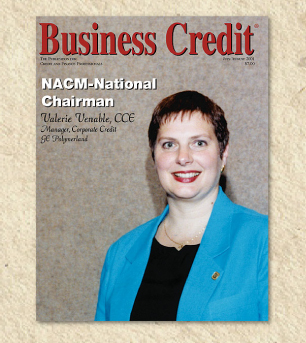 In 1993, Frank DuBrava, instructor, mentor and friend, encouraged Val to apply for the NACM Graduate School of Credit and Financial Management (GSCFM). "I would have never applied had it not been for Frank's encouragement and conviction that I could do the work," she confided. "Participating in the GSCFM program was a tremendous experience. It broadened my perspective of the business of credit and gave me a new appreciation of how the industry operates on a global basis. It also introduced me to other areas that I could explore if I chose to do so. To put this in a historical perspective, e-commerce was just a twinkle in someone's eye at this time!"
Val left Wyman-Gordon in 1999 to join GS Industries, another steel corporation. "I was recruited to centralize GS Industries' credit offices, which were operating in numerous locations and on a variety of systems. My mission was to consolidate everything into one system at one location. It took me a year to accomplish this."
As Credit Manager and Customer Financial Services (CFS) Team Leader at GE Polymerland, Val currently oversees credit services for all GE Polymerland business within the United States. Due to the diverse make-up of their customer base, Val's team focuses not only on traditional dialing-for-dollars collection activities, but on risk management and portfolio balancing as well. "GE Polymerland sells to any industry that has plastics in its products," she explained. "Because this description can fit almost any industry, we have an extremely large customer base and work with a wide variety of portfolios. This, of course, requires employing very different skills and techniques for each."
"A major challenge we currently face is knowing and understanding the various financing opportunities that are available to our customers and how these will impact them. It is extremely important that we be able to help our distressed customers, in particular, to get qualified. E-commerce also has added another entirely new dynamic to performing risk analysis, collections and financing. The need for a quick—if not instant—response has added a new dimension to making sound and valid credit decisions."
Discussing major changes within the credit industry, Val observed that the tremendous change in the array of financing opportunities now available to customers is probably most notable. "Twenty years ago, credit was viewed as an obstacle to sales, and it was commonly referred to as the 'sale prevention department!' Today, the image has changed to that of value-added financial professionals. It is now our responsibility to know and understand all the financial opportunities that are available to help our customers get qualified—particularly those that are distressed. And the financing information is constantly changing."
"Today's credit professionals have well-rounded, exciting careers. We are involved in so many different areas of the business—sales, finance and customer service, to mention just a few. In order to stay ahead in this rapidly changing industry, we must constantly learn new skills and acquire new tools with which to work. Finance and risk assessments are examples of two areas experiencing a metamorphosis. Change will be the norm from now on; nothing in credit will remain static."
Asked to identify other major challenges facing credit professionals today, Val responded thoughtfully, "Without a doubt, e-commerce is not only the single greatest credit challenge, but the greatest opportunity as well. How do you create a web site to validate an order? Decisions have to be made more quickly and involve more factors for consideration than ever before. Another major challenge is deciding how much information can be digitized and shared. How do we manage the vast amount of information that we have? How much of it is actually critical to the decision-making process? How do we identify what is critical and then optimize, digitize, use, share and store it? Now that we do business on the Internet where visibility is virtually limitless, with which customers do we need to be most familiar? Developing techniques to deal efficiently with information overload will be an ongoing challenge in the years to come."
As the new Chairman of NACM-National, Val's message to the members can be condensed into two words: "Get involved! Write letters, send e-mail, attend meetings, be on a committee. We want and need you to voice your opinions and be heard. You all have great ideas, and we need you to share them with NACM. Through my personal participation in the local Affiliate, on local and national committees and on the National Board of Directors, I have honed my leadership skills and developed an invaluable network of peers. My 'tool chest' of resources is now 30,000 members strong! This same opportunity is available to all NACM members. Your participation makes a difference both in the Association and in your professional career."
VALERIE VENABLE, CCE
Chairman, 2001-2002
W. Valerie Venable, CCE, Chairman of NACM-National, is Credit Manager for GE Polymerland headquartered in Huntersville, North Carolina. GE Polymerland is a recognized international leader in the plastics distribution industry, serving customers of every size worldwide and offering the largest selection of engineering resins, commodities custom compounds and specialty resins from leading suppliers in the industry. Noted for its long history of creating innovative solutions to meet customer needs, GE Polymerland is leading the industry in e-business with real-time materials management capabilities designed to help their customers grow and become more profitable.
Serving this past year as the Chairman- Elect for the NACM-National Board has been one of Val's most rewarding NACM experiences. In November 2000, Chairman Jack Clark led a Strategic Planning Task Force meeting of members of the National Board, National staff and Affiliate Managers. The Task Force met for two days at NACM-National headquarters to discuss how they could work together to create a stronger NACM.
Fifteen key strategic areas were developed and preliminary goals and objectives were set involving the following areas: Public Relations/Ad Agency; Web Site; National Membership Campaign; Newsletter; COO/CEO/Director and COO Training; Education Coop; Bookstore; Exhibit Booth; National Calendar; Conference/ Meeting Coop; Speakers Bureau; Buying Coop; and Associate Class of Membership.
"Participating on the Strategic Planning Task Force and working on the new initiatives has been a tremendous experience," Val shared enthusiastically. "Each time we have a meeting or attend a conference, more new ideas and initiatives are generated. The communication and cooperation between the Affiliates, members and staff is fantastic! Everyone wants to be involved—and that is exactly what we want and need."
Val also noted that she has kept in close touch with Clark over the past year in an effort to prepare for a smooth and seamless transition. "The selection of committee members occurs around the time of the March Legislative and Critical Issues Conference," she observed. "Many National Board members have served on these committees in the past and continue to remain on them. One of my initiatives as the new Chairman is to focus on recruiting more committee members. I encourage all Affiliate members who have related experience and/or would like to be involved to participate. To date, I have had an excellent response, which is both exciting and rewarding. It confirms what I have felt all along—that this is a member organization, and the members want to participate."
As the new Chairman of NACM-National's Board of Directors, Val plans to follow in Clark's footsteps, completing the various Strategic Plan initiatives and encouraging the ongoing development of new ones. "I am particularly excited about the newsletter to local boards. This is an excellent vehicle to foster and strengthen the lines of communication between NACM-National and the Affiliates. I want to bring as many fresh voices into this arena as possible—at the local Affiliate level, as well as at the Committee and Board levels. I must admit that I find it a tremendous honor to be asked to attend meetings outside my local Affiliate, and I always try to participate in as many as possible."
An overview of Val's participation in the leadership of NACM reveals a truly impressive history. On the National level, she has served on the Board of Directors and on the following committees: Nominations; Strategic Planning; Honors and Awards (Chairman); Accreditation; Finance and Budget (Chairman); Audit; as well as the Government Affairs Advisory Council and Executive Committee. A long-time member of the Hartford Chapter of the NACM Connecticut Affiliate, she served on the Education and Membership Committees, sat on the Board of Directors and served as president for two years. She is an active member of CRF and the Charlotte Chapter of CFDD, as well as a past member of FCIB.
Val earned her Certified Credit Executive (CCE) designation in 1992. "I remember sitting in the audience at the opening session of the Credit Congress in Atlanta in 1991," Val reminisced. "To acknowledge all of the credit professionals who had attained their certification, they asked those people to stand as they called out their designation—first the CBAs, then the CBFs and finally the CCEs. I looked around, and I felt like I was the only person left sitting down. I vowed then that I would not be left sitting on the sidelines again. I sat for and attained my CCE at the Credit Congress in Boston the following year!" She then became a Certified Expert Witness in 1996.
Val began her career in the credit profession in 1979—entering via the "back door." "I don't think many credit people started out with credit as their career goal," she laughed. "I have only met one person who actually selected this profession as a career, and his mother worked in credit!" Val began college with architectural engineering as her major, which certainly substantiates her theory regarding career goals in credit. During college, she worked in a number of office management-type jobs and found the work environment and personal interactions to be much more interesting and to her liking than her engineering studies.
"My first full-time job placed me in the role of a generic office manager." Val reflected. "My responsibilities included accounting and bookkeeping, as well as customer service and collecting payments on past due bills. It turned out that I was very adept at handling collections and actually enjoyed the work. Needless to say, I soon found myself working solely in credit."
Val's skills in accounting and bookkeeping got her the job, but she was not confident that they would be enough to keep the job. "I knew that I needed to fine- tune my credit skills. So I did some research and, in doing so, discovered NACM. I contacted NACM headquarters, and they put me in touch with the Hartford Chapter of the NACM Connecticut Affiliate. When I attended my first meeting several weeks later, I immediately realized that this was the professional affiliation that could help me develop my skills and knowledge and promote my career. I began attending NACM sponsored classes and seminars on a regular basis and have continued that practice ever since. I have greatly enhanced my knowledge of financial and credit principles and practices through NACM conferences and educational programs."
From 1990-1999, Val was Corporate Credit Manager for Wyman-Gordon, a leading metals engineering company that produces high-quality closed-die forgings and extrusions. Wyman offered Val the opportunity to study their credit process and then to re-engineer it within the various areas. "I started out on the investment castings side of the business and later moved into managing the credit for the entire company, which included the forgings and extrusions division. The goal was to streamline the entire credit process throughout the company—from order placement through payment. It was a very interesting challenge that I truly enjoyed—and successfully accom-plished!" Val noted that Wyman also was supportive of her participation in NACM and encouraged her to take an active leadership role.